A couple of days ago, Dad came into my room at three am. "Hey, wake up." I had been warned the night before that he and I might be going up to Scottsburg very early to check on the goats, because we thought one of them might be having her kids.  As Dad left I shut the door behind him and got dressed. I had laid my clothes out the night before, so it was easy.
I grabbed my computer, phone and bag and headed for the bathroom. When I was done I went to sit in the living room, waiting for Dad. He didn't come out for over three minutes, so I poked my head outside to hear if the car was running. It wasn't, so I decided he was still in his room. I came back inside just as he walked out of his room.
"Go ahead and start the Hulk. I'll be out in a minute."
I grabbed my stuff and headed for the car. It was really dark out, and there wasn't a sound. It was actually kinda creepy. Then we started driving and there were barely any cars on the road. I don't think I've ever seen Scottsburg so empty!
We got to the new property and headed straight for the barn. There wasn't anything happening, so we went up to the soaproom.
Fast forward an hour and a half. It was almost five, and we were starving. We'd been out to check on Myna Bird a couple of times, but she wasn't doing anything. I went into the break room to check on the oatmeal – it was set for eight o'clock, as always.
I changed that to five thirty, hoping I'd be able to last that long. I normally eat an hour after waking up, and I'd already passed that point.
Once the oatmeal was ready, we ate and then started gathering supplies for kidding. We don't have any plumbing in the new barn yet, so we had to come up with something for hot water. How were we going to get hot water for washing things in the barn?
Looking around the break room, I decided that the crock pot might work. It could keep the water warm, so we wouldn't have to worry about cooling down. And we could also use it to heat up baby bottles. I grabbed it and set it on the table, with the scale, bottles and other things we had gathered.
Dad and I headed down to the barn. It was almost six by then, so we only had a couple more hours until the rest of the family would join us.
Myna wasn't really doing anything, so I went into the (heated!) milk room to sit with Dad. We both sat there with our eyes closed, resting. I'd go out and check on her every once in a while, but she wasn't doing anything.
Sometime after seven, Dad and I were both out there. I was holding her while Dad was checking her out, (I'm not going to get graphic here :D). Nothing was happening, so Dad went to wash his hands. He came back and we watched her for a bit, watching for any signs of labor.
Indigo came running out of the milk room. "Hey, birthday girl!" Dad picked her up and hugged her. "It's time for breakfast! Mom says to come up to the soaproom." I climbed over the pen and told Indigo Happy Birthday as we walked back.
Fast forward to the afternoon. It was about two o'clock and Mom and Dad were finally eating lunch. I was sitting with Myna, watching her, when she sat down and started pushing.
I called Dad to let them know and went to get the towels. All the kids came running in and grabbed towels too. After a couple of minutes Mom and Dad came in too and we all settled down to watch.
She wasn't pushing. Mom asked Dad to check her out, so I held her while he did. "You're going to make Mom and Dad think I was lying, Myna! Can you start pushing? I want to meet your babies." She didn't do anything except lick my hand.
Eventually, she got serious. (I'm doing my best to not mention anything that will make anyone really queasy. :D) At 2:58, we welcomed a little goat into the world.
I started clearing out its nose and mouth, making sure it could breath. Dad checked and said "It's a girl!" and we started suggesting names. It had to start with an M, and because it was the first baby, the second letter had to be A.
Here's some of the names I remember:
Magnolia
Mandarin
Malificent
Malia
Marcia
Mom checked again and said "Really, Jim? It's a boy." We all groaned and started throwing out more names. I don't remember any of the names we suggested for him, I just remember the one I suggested. I said Marcus, and Mom actually liked it. 🙂 So it was Marcus.
A few minutes later, his sister Mermaid was born.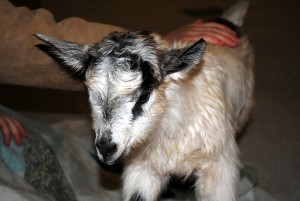 We brought them into the heated milk room and hung out with them while waiting for them to milk Myna.
As soon as the milk was brought in we fed them.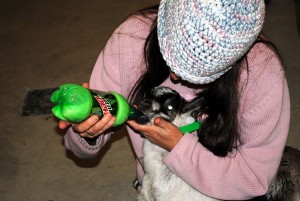 While I was still taking care of the babies, Mom called the boys back into the stall. A couple of minutes later they came back. "We have another girl!" they yelled.
"What're we going to call her?" Emery asked.
"Oh, can we call her Minnie?? Please??"
"Well, I did tell the girls that we could have a Minnie if a doeling fit the requirements. I guess we can call her that. But we need to have another name for her. Min… min…"
"Minerva?"
"Minerva! I like that!"
I got their collars on them. This year we have different colored collars – each color tells us who their Sire was. And their name tells us who their Dam is. So by looking at the collars (which have their names written on it) we can tell their pedigree.
Yesterday, I took the triplets out for a photography session. Do you know how hard it is to get pictures of baby goats looking at you? They had fun running around in the sun with the little kids, and I got a bunch of really cute pictures. 🙂
One down, twenty more to kid.