I'm so excited to be a part of the blog tour for Jamie Grey's Ultraviolet Catastrophe! I heard awesome things about it on Twitter, so when I saw the link to sign up for the blog tour, I signed up immediately. And I'm so glad I did!
Quantum Electrodynamics. String Theory. Schrödinger's cat. For sixteen-year-old Lexie Kepler, they're just confusing terms in her science textbooks, until she finds out that her parents have been drugging her to suppress her outrageous IQ. Now Branston Academy, a school run by the world's most powerful scientists, has tracked her down and is dying for her to attend – as a research subject.

She takes refuge at Quantum Technologies, a secret scientific community where her father works as a top-notch scientist, and begins her new life as girl genius at Quantum High. But the assignments at her new school make the Manhattan Project look like preschool – and Lexie barely survived freshman algebra.

Her first big assignment – creating an Einstein-Rosen bridge – is also her first chance to prove she can hold her own with the rest of QT's prodigies. But while working with the infuriatingly hot Asher Rosen, QT's teen wonder, Lexie uncovers a mistake in their master equation. Instead of a wormhole, the machine they're building would produce deadly ultraviolet rays that could destroy the world. Now Lexie and Asher have to use their combined brainpower to uncover the truth behind the device. Before everyone at Quantum Technologies is caught in the ultraviolet catastrophe.
From the moment I saw the cover over at Icey Books, I knew that I had to read this book. I don't usually go for Sci-Fi books, but the gorgeous cover and the description had me hooked.
I started this book towards the end of an 8 hour car trip, and it was killing me when I had to put it down to sleep that night. The moment we got back in the car the next day I started reading it and ignored everyone until I was done with it.
When I first looked at this, I thought that it looked cute but all of the science stuff was going to go right over my head. I was wrong! Jamie does a great job keeping the science to a minimum, and explaining the things that need to be explained for the story.
Speaking of things that Jamie did a great job with, can we talk about the characters? Lexie and Asher were PERFECT. Lexie had just enough flaws that she was believable, and by the end of the book, Asher became a really awesome guy.
And I gotta say – I loved his shirts. And the references to all the different fandoms. And the love that wasn't an insta-love. And pretty much this whole book.
The supporting characters were awesome. Zella, Max, and Amy, Asher and Lexie's parents, Coco… they all played an important part and they were all perfect for the part they played.
Honestly, I loved everything about this book. EVERYTHING. I can't think of anything I didn't like.
Okay, I lied. I didn't like the creepy guy. You know, the one whose name I can't remember. Oops. See, this is my brain trying to forget the one thing I didn't like about this book. Lol
I sat here for forever trying to think of something to say other than: "OMG THIS BOOK IS AMAZING GO BUY IT NOW." But I can't.
So – OMG, THIS BOOK IS AMAZING, YOU NEED TO GO BUY IT NOW. Or, you know, just enter this giveaway. 🙂
Jamie Grey spent most of her childhood writing stories about princesses who saved the day and pretending to be a daring explorer. It wasn't until much later that she realized she should combine the two. Now, as a tech-obsessed gamer geek, her novels mix amazing scientific developments, future worlds, and the remarkable characters that live in them.

Jamie lives in Michigan with her significant other and their pets, who luckily tolerate her overspending on tea, books, and video games. You can learn more about her at www.jamiegreybooks.com, or follow her on twitter via @jamie_grey.
Jamie on Goodreads
Jamie on Twitter
Jamie on Facebook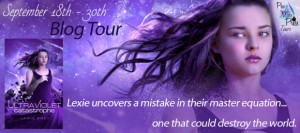 *Amazon link is an affiliate link.